ZayHi's WebPhone allows you to make calls using VoIP (Voice over Internet Protocol) technology with your calls being routed over the Internet. In this way, you are able to call to any phone number in the world using your PC computer.

We offer the special feature, Call Back Service. It allows you to use your physical phone to talk to the destination receiver. You simply key in your own phone number and the destination number. A few seconds later, you will received a call back from our system to your own physical phone and you are now connected with the destination receiver which you have just key in.
You will need a computer with Internet access, JAVA application, a headset, and ZayHi 's WebPhone account. When you are using ZayHi's WebPhone for the first time, you need to make sure you have JAVA application installed.

Click the "Start Calling" icons or type URL address https://webcall.zayhi.com on your browser
Enter the Account ID and Password to log in and you can start calling.

1. Please key the destination number including to Country Code + City Code + Destination Number and click "Call"

2. When you finished the call please click "Hang up"

1. Please key your phone number that you want the system to call back to you in "Your Own Number.

2. Key the Destination number including to Country Code + City Code + Destination Number in "Destination Number Part" and click "Call"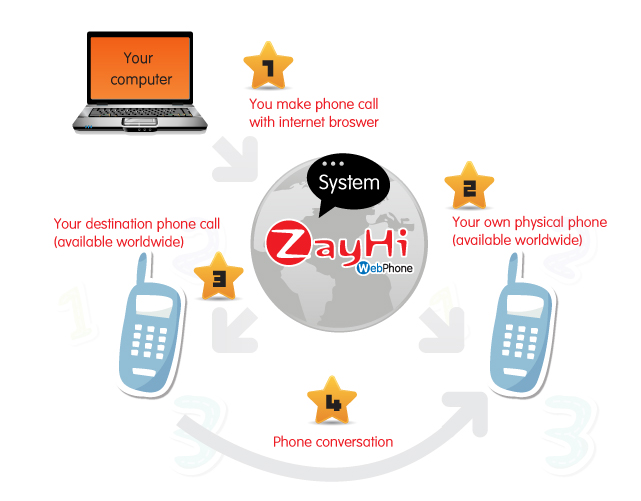 * Please note that there are rates charged for call back service on both calling

(your own phone number) and

(your destination call) according to their countries location base on our rate list.
*** This rate is not included the roaming service charge, please check with your operator.